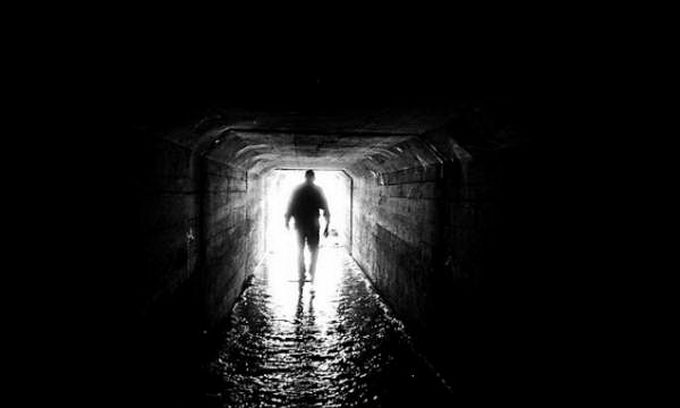 Light At The End of The Tunnel : source: vidomosti-ua.com
Time was moving faster than ever and the life is traversing through the continuum of metamorphosis, swinging like a virtuous cycle of weather in mid-west. The change would be inherently different and complete the transition to civilian life as a student at SIU for two years. It was a remarkable experience in terms of culture and academic career. Now, it's less than 18 official days in Carbondale. The days were extremely busy, fast, and exciting with the last cycle of academic stress fading away faster than ever. Spending endless and seamless time in EGIS lab, wondering about the where I will be gone in next few weeks. Thinking about careers and interview cycles, and wondering about the spatial cubicle where I am going to fit.
The last six weeks has been like speeding a car in 500 miles per an hour in stress and enjoyment, the juxtaposition of life. The most fantastic and mind boggling lectures of Agent based modeling entrapped with the phenomenal articulation of Hexmoor that certainly has the royal blend of appreciation and motivation. The course navigates you in the extremes of two different sciences, the logics of metaphysics and knitty-gritty of computing systems intercoupled with natural adaptive systems. The phenomenal examples of social and natural science theories that have rich ingredients of agents and multi agents' systems that human always envision of , compels researcher's on developing these complex adaptive systems by analyzing the microscopic behavior of natural agents. Evidently, it became the best class I ever took at SIU and elsewhere in my life, leaving the intellectual residues inside my grey matter.
The volleyball and soccer games that rejuvenated the spirit of sportsmanship and helped to stretch our muscles and helped to feel the helm of nature. Irony to that, we had to limit our self to participation in matches without any glorious victory that we always dreamed of. Nevertheless, it was fun while playing in a team, appreciating the sports and feelings the nice and beautiful weather, and lovely football ground of SIU near the Clock tower in Carbondale.
The sinusoidal wave of climate curve in mid-west and getting acclimatized with ups and down of nature. Intercoupled with the climate behavior, the climate of politics was also intertwined into grooves of concentric circles that have always been difficult to traverse. The global security issues that's lingering for ages in middle east seems more escalated and triggered, the Libya and uprising of Arab Springs were a global political debate. The American presidential debate of Obama and Romney created the synergy of political wave in the multi facet dimensions of national, regional, and global scale inside and outside of America. The downfall of Obama in the first debate and the bouncing back in third presidential debate along with the grinning of Joe Biden has been ratified by the people of America. The lesson: we need better health care, education, jobs and immigration reform. Will Obama be able to keep these promises? - Without the help of republicans in congress! , his close allies and Americans. Good luck to president in solving the chaos of economic downturn, regional and global issues, and expectation of American dreams. The country has been highly polarized in the decades with red and blue. Obama's most astounding address at 130 in the morning, the day he was reelected the president, was the foundations of ideologies that are sparkled in the mind of majority of Americans.
The other day, we spend endless hours talking about society, politics, imperialism and socialism. We know we are not going to change the world and I don't want it either but it's always fascinating when Eric, Diwas , and myself get together and deeply indulged in social science deemed in the false virtual hope by pretending like a social scientist and architect. It's getting cold and I feel like I have to stop riding my bike but I felt like I love this bike more than everything else. The bike will be in craig-list soon!! Sorry dude…..! I am fanatically poor.
The job interviews were cunningly interesting in the beginning but used to be the same rhetoric of similar questions. It was fun to talk with many people and experience the interview processes. Some of them were very difficult and I realized I need to spend 6 hours credit course of mastering it. I am still in the process of getting a job but overwhelmingly excited and motivated because of these interviews. The first on-site interview was at St. Louis, and then I traveled to Little Rock for another interview and will be traveling to Denver next week. It was great experience and learning something out of the box in life.
The changing leaves at the Garden of Gods, the sediment rocks and the 360 degrees views of Shawnee national forest showed the glimpse of natural beauty of southern Illinois. The Indian Cultural night and my performance as a Maharashtra lad was fanatic if not utterly lunatic,- I don't know anything about the culture and a dress that I was wearing that day. It was second experience in a year doing a stage performance in front of hundreds of people, thanks Carbondale you taught me that!
General David Patreaus fall down was shocking to me but it was a retrospect of masculine glitch. Nevertheless, the general will always be saluted for his long career in armed force and making the war strategies and doctrines. I still remember when consular officer asked me about whom really I admire? when I was interviewed for US visa in May 2008. Being a military officer, I gave him the solid snapshot of General Patreaus who was commanding the force in Iraq in 2008.
November 2012, Murphysboro, IL - Little Grand Canyon
Watching James Bond Sky fall, 23rd installment of Bond series at Carbondale mall was exhilarating experience although I like Pierce Brosnan than Daniel Craig. Surprisingly, this theatre was almost full for the first time in Carbondale. It was great experience to watch with so many peoples in the Theatres. I don't watch movies in Television or Laptops because I don't have a good one or maybe I love to watch with many people. Again, hiking at Little Grand Canyon for the last time of the year where we saw fallen leaves and beautiful scenic. It was an incredible experience.
Carbondale got deserted!! Oh I just realize it was Thanks Giving! Week. Enjoy the holiday season and I look forward to spend wonderful time for next 18 days at Carbondale officially!..D+18